THE CALL FOR APPLICATIONS for the next A.Y. 2024/2025
 will be published in December 2023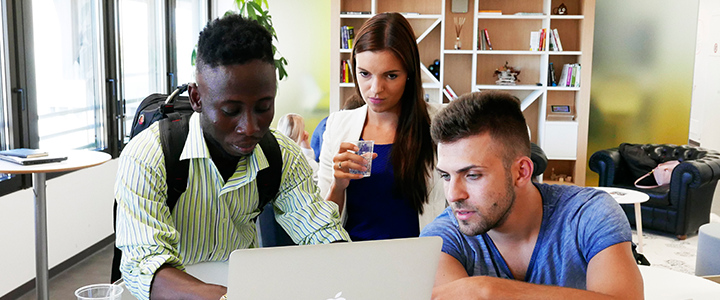 ---
The application journey for the B.Sc in Engineering Sciences for Academic Year 2023/2024 is designed to make the application procedure as easy as possible and to meet all our candidates' needs.
For this reason, there are three application procedures with different steps and deadlines to ensure that all candidates worldwide have enough time to comply with all legal requirements to study in Italy.
All applications must be submitted exclusively via our online platform Delphi following the indications given. Applications sent via email will be ignored and deleted.
All candidates are strongly advised to complete and submit their applications personally and to keep their credentials safe. All communication will be from our platform Delphi and via the email address indicated in Delphi. All candidates are responsible for checking both their Delphi account and inboxes on a daily basis.
STUDENT CATEGORIES AND APPLICATION PROCEDURES:
As a first step, choose your student category and follow the corresponding application procedure: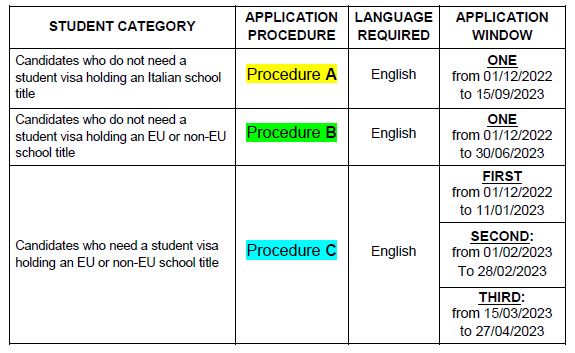 *PLEASE NOTE: the three procedures mentioned above (A, B, and C) do not prevent candidates from applying via the application process provided by the School of Engineering. The admission process of the School of Engineering is available in Italian only, and candidates wishing to follow this procedure must refer to the website of the School of Engineering (http://ing.uniroma2.it/) and the Student Office of the School of Engineering (http://ing.uniroma2.it/area-studenti/segreteria-studenti/).
ENTRY REQUIREMENTS:
All candidates worldwide wishing to study in an Italian University must meet the legal requirements established by the Italian Government. Please refer to the following link for further information: https://en.uniroma2.it/admissions/how-to-apply/
DOCUMENTS REQUIRED TO SUBMIT YOUR APPLICATION FOR THE B.SC IN ENGINEERING SCIENCES:
Personal and School Profile – please fill in the file provided. Any other forms/documents are not allowed

Passport or ID Card

Language Certificate – please check below the list of language certificates admitted

High/Secondary School Diploma or most recent school transcript
LIST OF LANGUAGE CERTIFICATES ADMITTED

any other language certificate not listed here will not be considered for assessment.
Minimum level required: B2 (Upper Intermediate)
Date of certificate: from January 2020 onwards
Lower levels and older certificates will not be taken into consideration.
IMPORTANT: Candidates whose native language is English and Candidates whose language of instruction is English do not need to submit a language certificate, but they MUST follow the instructions below:
Candidates whose:
native language is English; please upload a statement declaring your nationality, citizenship and country of residence
language of instruction is English; please upload a statement from your School's Principal declaring the language of instruction and the number of years of tuition received in English
EXPECTED MATHEMATICAL BACKGROUND:  
Candidates are expected to be familiar with the following basic mathematic topics such as basic algebra, linear equations, linear inequalities, exponential and logarithmic functions, goniometric functions, equations and inequalities of second order, irrational inequalities, statistics, and probability.
Examples of open-source lessons can be found on numerous websites, such as https://www.khanacademy.org/math/high-school-math
Applicants must download

ALL three files

listed below.

Before submitting your application, please read the Call carefully for Applications and the Step-by-Step Guide to Delphi Portal and Payment.

All candidates MUST download, fill in and upload th

e

Personal and School Profile – please fill in the file provided. Any other forms/documents are not allowed

PLEASE DOWNLOAD:
CONTACTS:
If you have any questions or issues regarding the application procedure, please get in touch with applications-es@ing.uniroma2.it, including the following information:
Relevant and concise subject line
In the body of your email, include the following details:

Your full name (name + family name)
Place of birth
Fiscal code (if you have already submitted your application)

State your issue or query clearly
Emails should be written in full English without using emojis or inappropriate abbreviations.
Language must be polite and respectful
Due to the extremely high number of applications received, emails written without following these indications thoroughly will be ignored and deleted. So candidates are advised to read the Call of Applications carefully. We appreciate your cooperation.
Tuition fees are reviewed yearly, and they are established by the main administration of the University of Rome Tor Vergata. For further information, please visit the link below:
https://en.uniroma2.it/admissions/tuition-fees/
Contact the Welcome Office for further information or assistance about fees and payment modalities at welcome@uniroma2.it
---
More precise and detailed information is published on the ministerial website at the page: studiare-in-italia.it/studentistranieri