CALL FOR APPLICATIONS A.Y. 2021/2022 (closed)
Applications for the current Academic Year 2021/22 are now closed and there will not be other intakes for the current year.
Information about Applications for next Academic Year 2022/23 will be published on our website in the upcoming months.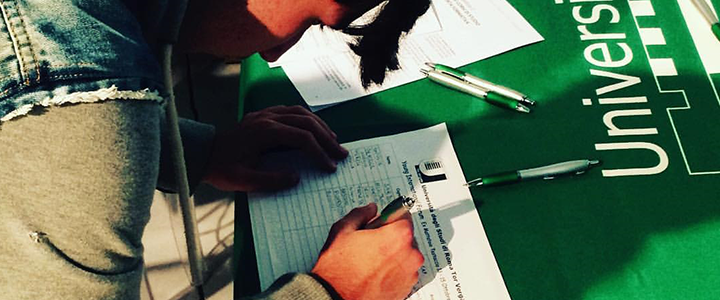 For any questions regarding the Admission procedure contact: applications-es@ing.uniroma2.it

Italian University website: General info for Amission A.Y. 2021-22
---
The application journey for the BSc in Engineering Sciences for Academic Year 2021/2022 is designed to make the application process as easy as possible and to meet all our candidates' needs.
For this reason, there are three application procedures with different steps and deadlines to ensure that all candidates worldwide have enough time to comply with all legal requirements to study in Italy.
All applications must be submitted exclusively via our online portal Delphi following the indications given. Applications sent via email will be ignored and deleted.
All candidates are strongly advised to complete and submit their applications personally and to keep their credentials safe.
APPLICATION PROCEDURES OVERVIEW
Please see below a concise overview of the three application procedures.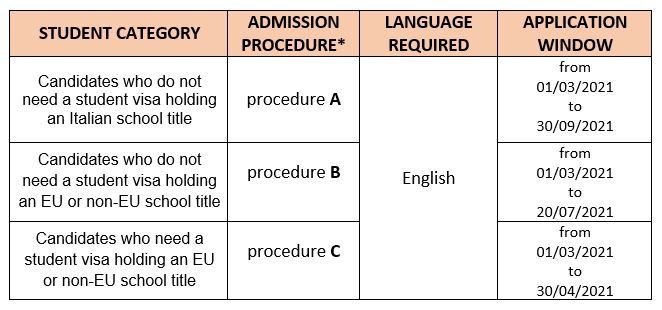 *PLEASE NOTE: the three procedures mentioned above (A, B and C) do not prevent candidates from applying via the application process provided by the School of Engineering. The admission process of the School of Engineering is available in Italian only and candidates wishing to follow this procedure must refer to the website of the School of Engineering (http://ing.uniroma2.it/) and to the Student Office of the School of Engineering (http://ing.uniroma2.it/area-studenti/segreteria-studenti/).
Applicants must download and read the full Call for Applications available below.
PLEASE DOWNLOAD:
Call for Applications A.Y. 2021/22 [Call for Applications A.Y.2021-22]
Step-by-Step guide to Delphi (& how to pay) [Step by step guide Delphi portal]
CV – Europass Format [Template CV Europass]
CONTACTS:
Relevant and concise subject line
In the body of your email include the following details:

Your full name (name + family name)
Place of birth
Fiscal code (if you have already submitted your application)

State your issue or query clearly
Emails should be written in full English without using emojis or inappropriate abbreviations.
Language must be polite and respectful
Due to the extreme high number of applications received, emails written without following these indications thoroughly will be ignored and deleted. So candidates are advised to read the Call of Applications carefully. We appreciate your cooperation.
Contact the

Welcome Office

for further information or assistance about fees and payment modalities welcome@uniroma2.it
Tuition fees are reviewed on a yearly basis and they are established by the main administration of the University of Rome Tor Vergata. For further information, please visit the link below:
https://en.uniroma2.it/admissions/tuition-fees/
IMPORTANT DEADLINES:
Submit your CIMEA Statement by

08/08/2021

(Candidates from Procedures B and C)
Submit your pre-enrolment via Universitaly by

23/08/2021

(Candidates from Procedure C)
Submit your CIMEA Statement by 31/10/2021 (Candidates from Procedure B)